WIT(Wakachiku Intelligence) Bulldozer System
Bulldozer system of information-based construction
Construction control and quality management of spreading and leveling earth work with bulldozers in land preparation and road construction have been carried out in close coordination with the installation of batter boards and operators. Efficiency of the work has depended heavily on experience and intuition of bulldozer operators.
In the WIT Bulldozer System, as information related to construction such as location of a site (RTK-GPS) and elevation of leveling is input into a computer and displayed on a monitor screen instantaneously, the quality can be managed and the efficiency of construction can be improved without relying on experience and intuition of the operators. Real-time information exchange via the two-way communication system between bulldozers and construction management offices enables sophisticated construction control and contributes to reduction in work period and costs.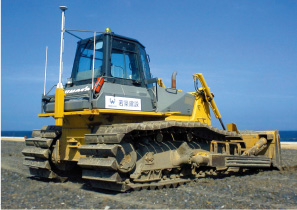 Features
Accurate positional guidance
Adoption of RTK-GPS enables accurate positional guidance.
Finishing stakes are not necessary (Real-time management of construction ground elevation)
As the ground elevation during the construction can be shown on a graphic display in real time, batter boards are no longer necessary.
Two-way communication of construction information
The two-way communication devices installed in offices and on bulldozers, which enable real-time information exchange between them, realize sophisticated construction control.